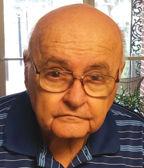 EDITOR'S NOTE: This is the inaugural edition of "Gems Among Us," a monthly column that will detail stories about seniors in the area. We all have interesting and sometimes riveting stories from certain times in our lives that should be shared to inform, entertain, inspire and contribute to the wonderful stories of the best of humanity. We hope you enjoy this new feature. This column will run the first Saturday of every month.
The inaugural "Gem" lives in retirement at St. Augustine Seminary in Bay St. Louis. Brother Matthew Connors was a baker, butcher, bus driver and groundskeeper for the Society of the Divine Word Missionaries after joining at age 19.
At 50, he was assigned to a black church in a poor part of Greenville, Mississippi. He thought he was going to maintain the property. Instead, he found himself in the improbable role of becoming a father figure and mentor to scores of boys and young men on the likely path to death or prison.
Here is Brother Matt's story:
I was sent to Greenville from Lafayette, Louisiana, in 1990 to maintain the property of Sacred Heart Church. I thought I would stay there a couple of years and move on. God works in mysterious ways, though.
I was raking leaves one day when a kid asked me if I needed help. I asked him why he wasn't in school and he told me he was expelled for fighting. I called his school and they confirmed he had been expelled so I paid him to help me rake leaves.
"The next day he returned with three friends. They said they had all been expelled for fighting, which I confirmed with the school, so I put them to work also.
That afternoon I asked the kids if they played basketball, and the smallest kid told me he was Michael Jordan! I took Michael Jordan and his friends to the Sacred Heart gym and let them play ball for an hour, after which I closed the gym and went to the rectory to have supper.
Just as I sat down there was a knock at the door. Outside were 90 black kids with various gang colors standing in the yard together, which was a miracle in itself. They asked if I was going to open the gym for them, too. When I told them I would as long as they didn't wear their gang colors, they protested, at which point I turned to go inside. Realizing I was going to stick to my guns they quickly agreed.
The first night in the gym was tense with rival gang members looking warily upon each other, but after a few nights they were playing on the same teams and helping each other up when they got knocked down. For seven years, they came every night to play basketball for three hours in the gym, rotating teams. When one team lost a game, another team stepped onto the court, and the rule was that either everybody gets the ball or nobody gets the ball.
Then I had a hard bout with pneumonia and my doctor said I could only go to the gym every other night. And so, for the next three years, the boys did just that. During those 10 years of evening basketball games, there was never, not once, a problem on the grounds of the Sacred Heart Church and the gym. Those boys understood the sacredness of the property.
Instead of preaching to the kids who came to play basketball, I got to know them on an individual basis, and tried to lead them from that perspective. As things came to light about their home life, their parents, siblings, extended families and other problems, I began to see they had other needs than to just play basketball every night. These things needed solutions.
So, I became a person wearing many hats. Sometimes it was just a shoulder to lean on, an ear to listen, or even a substitute parent. Other times I was transportation to and from medical care, solicitor for donations such as shoes, coats, blankets, baby formula, diapers, baby wipes and sometimes food for an entire family. Those boys had become my family and I cared for each and every one.
When donations didn't match the need, I used my own meager salary. There were times when there was just not enough to cover the needs of so many, and nothing was left for myself. I relied on Divine Providence to take care of me.
Sometimes I went to bed hungry because of a phone call saying that a family with little children had no food. If I didn't have the money, then I'd give them whatever food was in our little storeroom. It was my way of trying to show the love of Christ to these boys, most of whom had grown up without a father or any role model to set an example of what a real man should be to his family.
In them I saw potential for better things and did my best to implant that concept into them. I encouraged them to complete their education and to learn a trade. What I repeated over and over was that if they made good changes to their lives, they could – and would – become good citizens who would be an example for those who came after them.
I worked hard to keep guys out of prison. I went to the courtroom every time one of my guys was in trouble. I went to court to speak for my guys around 200 times, maybe a little more, and I came out with 197 of them.
When any of my guys would get arrested, they were incredibly anxious because they felt the system was against them, and that they would be found guilty and get the maximum sentence. I told them I would get them out the first time but after that they needed to smarten up and fly right. And most of them did to the point that today they are successful husbands and fathers.
I went to about 75 funerals in the Delta. About 90 percent of them were for kids who had been shot through the head. I once stood before the casket of a 2-year-old girl who had been shot in the head. She had been dancing on the couch in her house. Her brother was a gang member and he and another guy had gotten into a fight. The other guy went home and grabbed his .45 pistol. He fired it at the brother's house from a block away. The bullet went through the wall of the house and hit the little girl on the couch.
I had never seen such gun violence, and despite being a gun owner earlier in life, I vowed to get as many guns off the streets as I could. With the concurrence of the police chief, I put the word out that guys could turn guns in to me anonymously with no questions asked.
By the time I left Greenville, I had turned in 71 guns to the police department. I was very thankful that those guns were off the streets and out of hands that might pull the trigger.
It disturbed me to later learn that when the police department needed money to buy equipment, they would sell the guns I had turned in to a pawn shop. The guns would go right back onto the street. Despite this, for a while there was a noticeable drop in gun violence in Greenville. You have to thank God for every blessing, no matter how short-lived.
I experienced the best and the worst of gang members in Greenville. The worst was being the target of two drive-by shootings because I was talking kids into turning away from gangs.
There were many "bests," but one that sticks out was a night in the gym when the guys formed two lines as if they were going to fight. Instead they walked up to me, side by side, shook my hand, and said, "Happy Father's Day."
Wow, the guys really touched my heart that night.
So many times I've been asked how a short, white guy from Massachusetts connected with young black boys and men in Mississippi.
I showed them I cared about them. You can't just tell a person you care about them, you have to show them through actions. Preaching only goes so far. If they have holes in their shoes, buy them new ones. If they're cold at night, give them blankets. If they're hungry, feed them. If they need a father figure, be one to them. You have to make people feel like they matter."
Brother Matt's Mississippi Delta experiences, including interviews with former gang members, are detailed in the book, "We Did It Together, One Man's Improbable Journey of Becoming a Father Figure to Gang Members in the Mississippi Delta," available on Amazon.com.
If you would like to share a story from your life or would like to nominate someone to be a "Gem," e-mail Bill at: billcurrie23@gmail.com.